Portfolio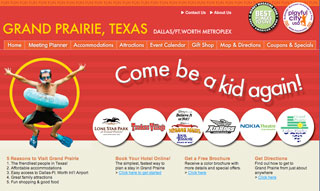 Website Design & Production
AIPARC
February, 2017
Sansa Advisors
November, 2016
Work for Fun
November, 2014
WittyParrot
May 2013, design only
[a•mo•bee] corporate website
2011. Corporate website identity, logo, and mobile branding.
Grand Prairie Convention Bureau
October 2010, October 2008, October 2006
Azingo corporate website
December 2008 - This was a complete overhaul of the corporate identity, including the logo, color palette, application designs, etc.
SpikeSource corporate website
August, 2008 - design only
Saba Software
March, 2007
Fuller Thaler website
December, 2006
Pillar Data Systems corporate website
August, 2006
CRMOnDemand.com
2003 - Rebranded, but the design is basically intact. View the "scenario" based demos, which are also mine both in design and editorial content.
Siebel.com Rebranding
October, 2004 - for an idea of what this looked like, use the wayback machine
Anthony Buzak Furniture
September, 2004
Farbest Brands
September, 2004
Renegades Nightclub
August, 2003
Siebel-Microsoft.com
October, 2002
Siebel User Week
June, 2002
Web of Culture
September, 2001
Siebel-Compaq.com
now Siebel-HP.com, November, 2000
Mancini's Sleepworld
June, 2000
Siebel Systems
March, 2000 - October, 2004
The Otter Project
January, 2000
The 641 Club
September, 1999
Meridian Global Resources
July, 1999
JETRO San Francisco
July 1999- original design
shopnovell
May, 1999
Novell Global Partner Summit 1999
January, 1999
Novell Corporate Partnerships
May, 1999
Sony New Technologies
1997, division dissolved
PC Financial Network MagicBroker
1996, division dissolved
All American Loan Services
July, 1996
Mobile UE/UI
Please contact me for samples.
Branding
Case Study: Amobee

Challenge
The [a•mo•bee] logo had to span print, digital, social, and mobile channels. It also had to give viewers clues as to how to correctly pronounce the company name, and refer to the company's messaging as the "company defining mobile advertising."
Solution
Create a recognizable logo and corresponding icon that could be be for...
Traditional channels: print advertising, billboards, postcards
Digital channels: websites, social icons, presentations, .ico files, computer desktop icons, augmented reality trigger images, could be sent via email without requiring it to be an attachment.
Mobile channels: a mobile phone icon and web shortcut, could be sent as a text message
 [a•mo•bee]
Pro Bono Work
San Francisco Lesbian/Gay Freedom Band
2011-2017
Webguild of Silicon Valley
1998
Billy DeFrank LGBT Center
March, 2003
Monterey County AIDS Project
1996